Commercial audio-video systems can be used in any business setting to provide high-quality audio and video capabilities. They are used to enhance presentations, add a touch of professionalism to meetings, or simply provide entertainment for customers and staff. Commercial audio video systems typically include audio components such as amplifiers, speakers, microphones, headphones, and receivers; as well as video components such as projectors, monitors, and cameras. These systems can be tailored to any business's needs in order to ensure the highest quality sound and picture possible.
In addition to providing audio and video capabilities, commercial audio-video systems also offer a range of other features depending on the specific system chosen. These may include features such as wireless audio and video streaming, digital signal processing (DSP), and remote management. These systems can also be used to facilitate virtual meetings, create an interactive environment for presentations, or provide a secure way of communicating between businesses and their customers.
Quality Commercial Audio Video Systems
With the right commercial audio video system in place, businesses can make sure that their audio and video presentations are seen and heard by everyone in the room. This helps to create a more engaging experience for those attending, giving them a chance to fully understand what is being conveyed. The systems can also be used to stream content from one location to another, allowing businesses to share their message with customers or colleagues located elsewhere.
Also, commercial audio-video systems are perfect for providing an enhanced level of security. Video surveillance cameras can be used to monitor any areas within a business and provide a higher level of protection from unauthorized entry. Audio systems can also be used to alert staff or customers when there is suspicious activity in the area, helping to ensure that everyone feels safe and secure at all times; these are just a few of the many ways that commercial audio-video systems can benefit businesses.  [1]
By integrating this technology, companies can improve their communication, entertainment, and security capabilities all at once. With the right setup, businesses can ensure they have access to the latest advancements in audio and video technology which can help them stay wired to their environment and give customers a better overall experience. Electronic sound systems create an inviting atmosphere, allowing businesses to customize music and sound levels based on the needs of customers or employees.
With wired audio-video systems, businesses can project images with greater clarity while taking advantage of powerful sound capabilities that make any event more memorable and enjoyable. Electronic wired sound systems also offer enhanced security capabilities, allowing businesses to monitor their environment and provide greater protection against potential threats. With wired audio-video systems, businesses can enjoy a level of control that is not possible with wireless options. All in all wired audio-video systems are a great way for businesses to stay connected and make sure they provide the best experience for their audience.
Audio-Video Technologies
Displays, microphones, speakers, and cameras are all components of audio video technology, and they may be created using a countless number of different technologies. Since the early 1900s, AV technology has been utilized to capture real-world footage on film. Over the past century or more, AV technology has undergone substantial transformation, allowing cameras, microphones, and speakers to record and broadcast in high definition to anybody, anywhere in the world.
Modern AV is used to facilitate communication between two people, display a picture and sound in a specific location, or employ video conferencing software. AV Integrators create AV systems that enable anybody to easily speak with others via video conferencing software at the push of a button. To put it simply, in order to transmit both visual and audible material, audio-visual technologies must be coordinated. Essentially, these systems collaborate to make sure that the image and sound are in sync with one another. Radio, movies, television, visual displays, projectors, and more are some of the most popular audio-visual technologies! [2]
Video Conferencing Systems
When two or more people meet virtually from various places, it is called a video conference. In order to communicate, they connect via a computer and use voice and video. For team meetings, webinars, product demonstrations, job interviews, and other purposes, video conferencing is a viable option.
Video conferencing has developed into a vital requirement for enterprises of all sizes and activities, from managing distant workers to concluding commercial agreements abroad. As the apex of remote work and communications, high-quality video conferencing will become increasingly important for businesses and agencies to provide for their customers and staff.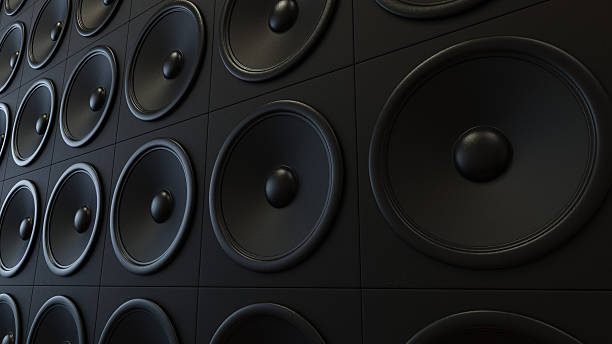 Sound Systems
Our wired electronic sound systems are designed to provide superior audio quality for any application. Whether you're looking for a wired system for your home theater or a commercial system for your business, our wired solutions are sure to please you. Our wired sound systems come with the necessary components to create an immersive audio experience that will keep your guests entertained and engaged.
Video Walls
A video wall is a unique multi-monitor configuration made up of several computer monitors, video projectors, or television sets that have been tiled next to one another or stacked on top of each other to create a single, enormous screen.
Stadiums, command centers, and other huge public spaces occasionally include video walls. Due to the costs of manufacturing single displays which are uncommon in shape, size, or resolution, a video wall may be preferable to a single huge screen. Other advantages include the flexibility to alter tile patterns, more screen area per unit cost, and more pixel density per unit cost.
Control Systems
Control systems for commercial audio visual systems are vital for managing and displaying the video wall. These systems can be as simple as a basic media player software, to more complex control systems with custom programming dependent on the needs of the customer. Control systems can include multiple source inputs including PC, Mac, iPad, mobile devices, HDMI and more. Content management capabilities allow users to upload content from anywhere and display it instantly. Control systems also provide the ability to easily switch between multiple sources, allowing dynamic displays with ease. Furthermore, control systems allow users to create custom scripts that can automate tasks such as scheduling content and creating multi-display layouts. 
With a wide range of powerful control system options available, configuring and managing complex video wall systems is simple and efficient. Control systems are ideal for creating a powerful digital signage network, allowing users to manage multiple displays with a single interface. With the right control system, video wall installations become easier than ever before. By integrating a control system into your video wall installation, you can ensure reliable performance, enhanced flexibility and consistent results.
Lighting Systems
Lighting systems are essential for any video wall installation. The right lighting system can help to ensure optimal image quality and clarity, resulting in increased visibility and impactful visuals. With a range of options available, finding the perfect lighting system for your video wall is easy. From high-quality LED panels to spotlights and adjustable track lights, there are plenty of lighting solutions that can be tailored to meet your specific needs.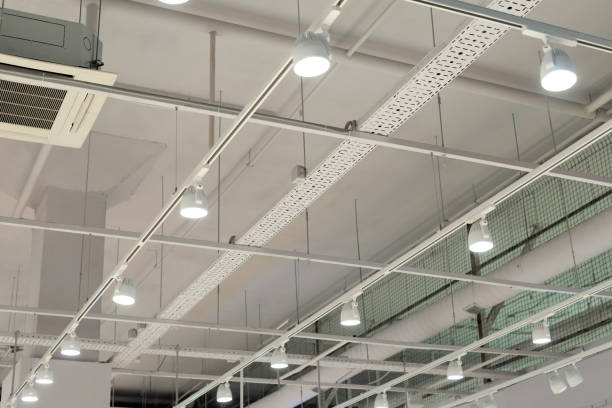 Frequently Asked Questions
What is a commercial audio system?
A commercial audio system is a modern, cost-effective way to provide sound to multiple rooms and areas of your business. 
What is Distributed Audio Video?
Distributed audio video is a modern technology that allows users to send audio and video signals over multiple devices, such as TVs, laptops, tablets, and smartphones. This type of system can be used in corporate environments to enable employees to access multimedia content from any location. It also enables remote collaboration between staff members located in different locations around the world. With distributed audio video, businesses can ensure their corporate security and information is securely transmitted over a closed network.
What are the three types of audio-visual technology?
IP Cameras
These are modern cameras that use Internet Protocol (IP) to transmit video and audio data over the internet. They are ideal for remote surveillance and monitoring purposes, as they can be easily accessed from virtually any location with an internet connection.
Digital Video Recorders (DVRs)
 DVRs are modern digital recorders that can store and playback audio-visual data. They are great for remote security needs, as they can be easily accessed from any location with an internet connection and can store large amounts of data for up to 30 days or longer.
 Voice over Internet Protocol (VoIP)
 VoIP is modern technology that uses the internet to transmit phone calls, allowing for cheap long-distance communication. It is perfect for remote security needs, as it can be used to easily connect different locations and access audio surveillance data from multiple devices. Additionally, VoIP services are typically much cheaper than traditional telephone services.
What are the three types of audiovisual media?
Audio media
This type of audiovisual media includes audio recordings such as CDs, cassettes, and digital files. Audio media is often used for radio programs, podcasts, speech recognition software, and more.
Video media
 This type covers anything with a visual component including movies, television shows, streaming content, and video files. This type of audiovisual media is used for entertainment, communication, education, and more.
Virtual media
Virtual media is modern technology that enables users to interact with remote locations or devices using a computer or telephone connection. Examples of virtual media include VoIP (Voice over Internet Protocol) services and other online communication tools. [3]
References
Commercial Audio Visual Installation – TekMax Technologies. https://tekmaxtechnologies.com/commercial/audio-visual
What Can An Audio Video System Do For You. https://www.dataprojections.com/dp-audio-visual-integration/audio-video-system/
What Are the Types of Audio-Visual Media? https://www.musicalmum.com/types-of-audio-visual-media/