The Best Waterfall in Ohio City
Perhaps the best waterfall in the center of Ohio city, the Chagrin Falls Waterfall is located at N Main St, Chagrin Falls, OH 44022. This waterfall is seen at the heart of Chagrin Falls on North Main Street. Which is closest to the joining between North Main street and Bell Street.
With water cascading over a rocky ledge that is approximately 20 feet high. Chagrin Falls with the equally impressive Great Falls of Tinkers Creek have lots of things in common. In the 1800's Chagrin Falls soon rose to become one of the largest industrial centers in Northeast Ohio.
The waterfall is surrounded by beautiful trees, rock formations, and other natural features that enhance its beauty. Right above the waterfall is an old popcorn shop, a Starbucks, and a Jeni's Ice Cream. Normally there are open parking spots just right outside the popcorn shop, if not it shouldn't be hard to find a parking spot close by. To the left of the popcorn shop a boardwalk will take you down to an overlook of the falls and other attractions.
Visitors can enjoy a variety of activities at the Chagrin Falls Waterfall, including hiking, picnicking, fishing, and photography. The waterfall is particularly beautiful in the fall when the leaves change color, but it is a popular destination year-round.
Overall, the Chagrin Falls Waterfall is a beloved landmark in Northeast Ohio that reflects the area's natural beauty and rich cultural heritage. The town is now a very famous town of residence for people of wealth residing in Cleveland the Forest City and people who enjoy the comfort of living in a quiet town that is just a short drive from Downtown Cleveland.
It is an unforgettable destination that offers visitors a chance to experience the wonder and majesty of nature, all in the heart of charming downtown Chagrin Falls.
Driving directions from Chagrin Falls Waterfall to Rhodes Security Systems Office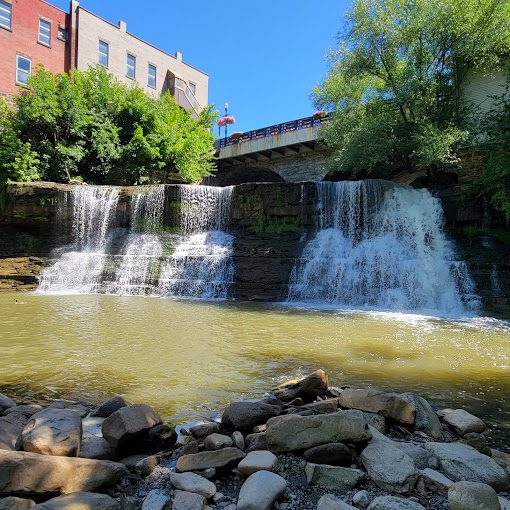 From Chagrin Falls Waterfall, head Northwest on N Main St toward Riverside Park Path, turn left onto W Orange St, continue onto Chagrin Blvd, turn right onto OH-91 N/SOM Ctr Rd, at the traffic circle, take the 2nd exit and stay on OH-91 N/SOM Ctr Rd, turn left onto Mayfield Rd, Merge onto I-271 N via the ramp to Cleveland/ Erie Pa, merge onto I-90 E, take exit 193 for OH-306 toward Mentor/Kirtland, turn left onto OH-306 N/Broadmoor Rd, turn right onto Tyler Blvd, turn right toward St Clair Ave twice and take the sharp right toward St Clair Ave, turn right onto St Clair Ave, turn left twice, your destination will be on the right (Rhodes Security Systems).
A Little About Chagrin Falls
Chagrin Falls is a charming village nestled in northeastern Ohio, known for its scenic beauty and small-town charm. Situated along the banks of the Chagrin River, the village offers a picturesque setting with its iconic waterfall cascading through the heart of downtown. Chagrin Falls exudes a vibrant and artistic atmosphere, with its quaint streets lined with boutiques, galleries, and cozy cafes. The community takes pride in its rich history, evident in the well-preserved architecture and the annual events that celebrate its heritage. With its natural beauty, thriving arts scene, and welcoming community, Chagrin Falls is a captivating destination for locals and visitors alike.
Another place of interest: Pepper Pike Club